Conception
Confident with its expertise in Limousin heritage, the Limousin I.E.O. can help you to set up your exhibitions, in partnership with the graphic designer Franck Watel.
Do call on us!
Hire
1800-2000 : From « patois-speaking priests » to contemporary writers : 200 years of Occitan literary creation in Limousin :
This touring exhibition presents 200 years of Occitan literary creation in Limousin on 33 panels.
The set of panels is divided into two distinct sections :
First section : Contemporary writers (15 panels)
→ More details
→ A few extracts
Second section : From « patois-speaking priests » to the Félibrige (18 panels)
→ More details
A third section is on the drawing-board : From the troubadours to the baroque period.
The complete exhibition will tackle a thousand years of Occitan literature and language in Limousin.
Presentation :
After the prestigious troubadour period of the Middle Ages, Limousin Occitan literature underwent a few centuries of little creative activity apart from a few scarce works.
Only in the 18th century was it revived thanks to « patois-speaking priests », two of the most famous being from Limoges : François Richard, a songwriter, and Jean Foucaud, the author of remarkable fables.
Yet the true Occitan literary revival in Limousin took place at the end of the 19th century with the works of Joseph Roux, the first Limousin « félibre » and above all the first to write Occitan in its classical norm.
At that time, more than twenty Limousin-speaking writers got published in Lemouzi magazine.
Today, all kinds of literary works in Limousin Occitan are created ranging from poetry to prose, plays, songs, short stories, novels ; and Marcelle Delpastre' outstanding work of universal significance left its mark on the last 30 years.
Those who have chosen Occitan as a medium for literature have proved that this language can say anything, can convey the dreams, thoughts, images and ideas, struggles and heritage of the people who belong here.
A language like any other language, able to speak the human tongue.
Exhibition related offers :
. We can provide organized activities, text-readings (poetry, prose, short novels or novels extracts, etc…).
. We can lend books for a show-case display.
Technical instructions :
Setting-up :
. This exhibition received financial support from : Conseil Régional du Limousin, Direction des Affaires Culturelles du Limousin, Conseil Régional Poitou-Charentes, Conseil Général de la Corrèze.
. General conception : The Limousin Institute for Occitan Studies
. Photos : Françoise Beylie, Enric Molina, Nieke Swennen, Journal La Montagne, Jean-François Amelot, Jan-Màri Caunet, Jean-Loup Le Maître, Frédéric Magnoux.
Thanks for lending photos to : Mrs Bouquet, Mr Jean Delage, Mr François Delooz, Mr Daniel Dexet, Mr Martial Farnier, Mr Anne-Marie Mérigot, Mr Jan dau Melhau, Mr Claude Sadarnac, Mr Michel Tintou, Archives départementales de la Corrèze, Bibliothèque Francophone Multimédia de Limoges, Lo Bornat dau Peiregòrd, La Clau lemosina, la revue Lemouzi.
. Graphic design : Doublevébé (Franck Watel)
Hire charges : Contact us.

« They used to kill old people… » :
Presentation :
This exhibition came into existence in 2013, thanks to the interregional cooperation campaign : « Cultural heritage and territorial identity – Traditional languages, music and dances in Massif Central » led by six structures¹ working either in the circles of traditional music and dances, of cultural diffusion, or in the field of languages (Occitan and Bourguignon-Morvandiau). It includes eleven cases that tell us about the Massif Central regions (« pays ») : it is a quest for an identity that almost became a forgotten page in the history books and very nearly died.
An old man and an old woman, the last ones to remember the Massif Central patchwork of territories, take an uprooted person back to his roots. It is an initiation journey through landscapes, people and their life stories (migrations from here and elsewhere), languages (Occitan through its various dialectal forms, Bourguignon-Morvandiau), instruments and their music, and most of all, their dance, and what a dance !
Here is a short film made by 7ALimoges when the exhibition was shown to a Limousin audience for the first time, in May 2014 :
To know more about « Cultural heritage and territorial identity – Traditional languages, music and dances in Massif Central » : http://patrimoine-oral-massif-central.fr/
Conditions and hire charges : Contact us.
Borrowing for an exhibition
Una linga que fai parlar lu pais / A language that conveys the spirit of the country :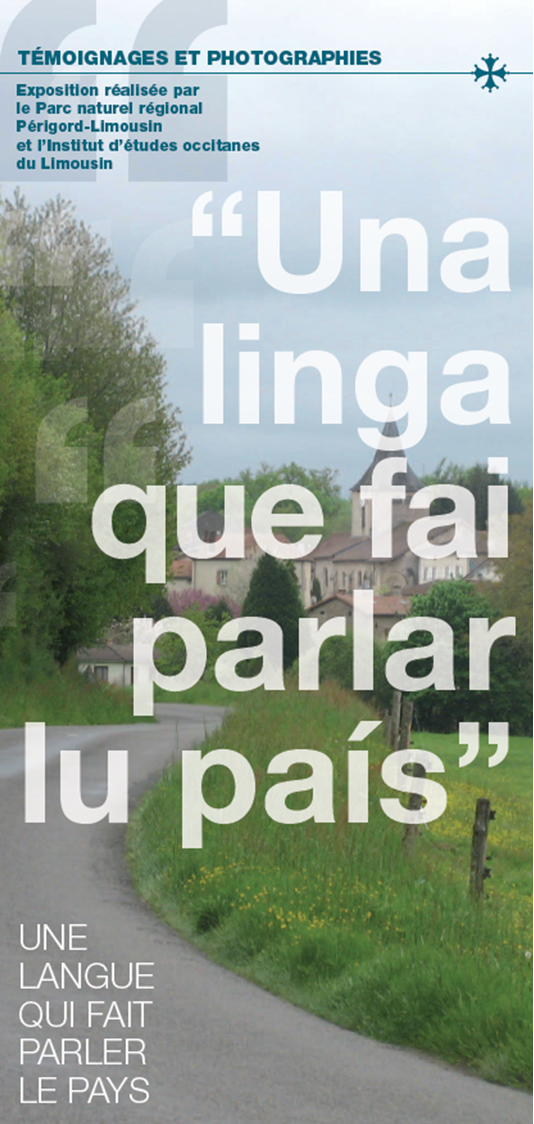 An exhibition of photographs and testimonies from the inhabitants of the Périgord-Limousin Park who bring alive their commitment to the Occitan culture through personal experiences. The exhibition, in French peppered with Occitan, includes 9 kakemonos (self-supporting – 80 x 200 cm). Free booklets « Peiregòrd-Lemosin, País occitan », back up this exhibition as an introduction to Occitan culture.
This exhibition was organised by the PNR and the Limousin IEO. It can be rent for free from the Park (Maison du Parc, La Barde, 24450 La Coquille) – 05 53 55 36 00 – info@pnrpl.com.
The Limoges Francophone multimedia library lends a travelling exhibition featuring Marcelle Delpastre and including fourteen 159 x 100 cm pannels : 1. M.D. the poet and the peasant ; 2. The memorialist ; 3. The chronicler ; 4. The novelist ; 5. The poet : ballads and poetic prose ; 6. The poet : the psalms ; 7. The poet: the dramatic poems ; 8. The ethnographer and the anthropologist ; 9. The correspondence ; 10. Marcelle Delpastre in public ; 11. The creative arts ; 12. Two languages for a man's writing ; 13. From the school exercise-book to the ring notebook ; 14. Marcelle Delpastre's life and works.
For any request concerning a loan, write to bfm@bm-limoges.fr.
For other exhibitions
→ View the list of available exhibitions at CIRDÒC – Mediatèca occitana (like the one about Marcelle Delpastre and Anjela Duval)
¹ The project « Cultural heritage and territorial identity – Traditional languages, music and dances in Massif Central » organisers :
– L'ADDA Scenas crosadas (Lengadòc Rosselhon)
– L'Agéncia de las Musicas daus Territòris d'Auvernha (Auvernha) – AMTA
– L'Associacion Nacionala Culturas e Tradicions (Auvernha) – ANCT
– Lo Centre Regionau de las Musicas Tradicionalas en Lemosin (Lemosin) – CRMTL
– Lo CIRDÒC – Mediatèca occitana
– L'Institut d'Estudis Occitans dau Lemosin (Lemosin) – IEO Lemosin
– La Maison dau Patrimòni Orau (Borgonha) – MPO